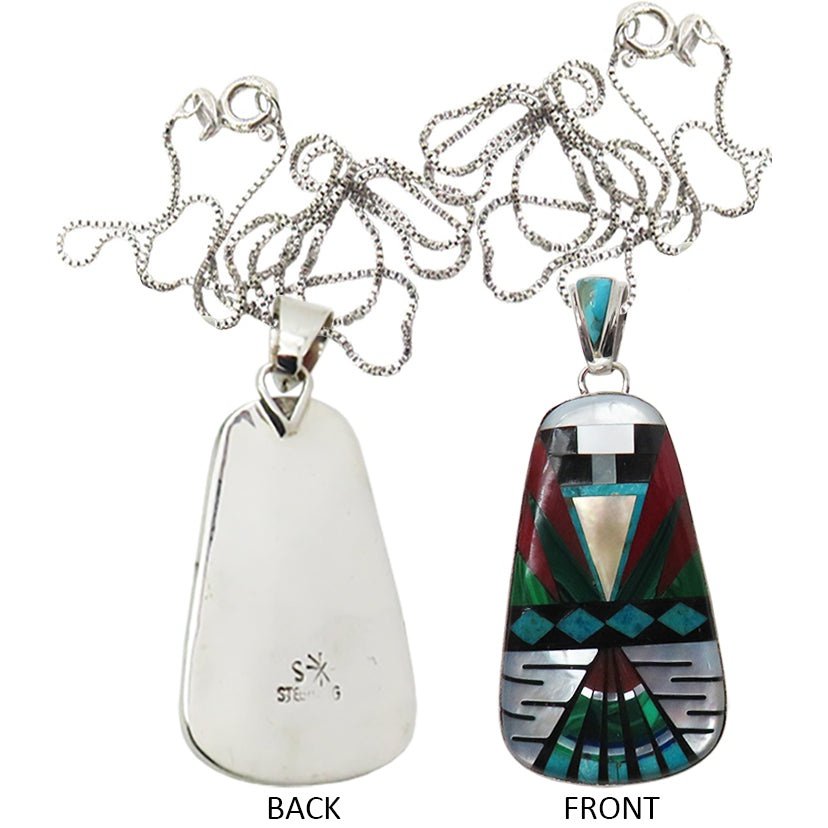 Native American Navajo Multi Stone Inlay 1.9" Pear Shaped Pendant with 18" Chain
Sterling Silver with Semi-Precious Inlays. Approximate size: 1.9" x 1". 
This stunning Native American Indian Multi-Stone Inlay Pendant features multiple individually hand cut and hand inlaid pieces of semi-precious gemstones and minerals, including Mother of Pearl, Onyx, Turquoise, Malachite, Coral, and others. It is set in a Sterling Silver bezel.
It is a unique, one-of-a-kind example of the Navajo Indians time-honed craftsmanship, perfected over many generations and passed down to today's skilled artists and craftsmen, who still use the traditional techniques to produce individual masterpieces that showcase the inner beauty of Nature's wonders. 
Please note that each item is made individually by hand, so there are variations in color and design, and the item you receive might not be exactly like the one pictured, although this picture is a very true representation of the overall look and intricate detail that you will receive.
---
Share this Product
---
More from this collection